IOTA360 Evaluations is the only existing course evaluation product empirically demonstrated to improve learning, improve course delivery, and reduce student attrition. It is also the industry standard for service, by which all others are measured.
When you implement IOTA360 Evaluations for your course evaluations, you keep control of the entire process, but we do all the work. Simply tell us what you want to happen and we take it from there. Scheduling, reminder emails, survey delivery, LMS integration, student & faculty support, results reporting, viewing permissions, last minute edits or corrections…. We handle it all for you.
For a comprehensive list of standard features and functionality, please CLICK HERE.
Click the links on the left to learn more about IOTA360 Evaluations' key features.
Standard Reports
IOTA360 Evaluations provides seven standard IOTA reports: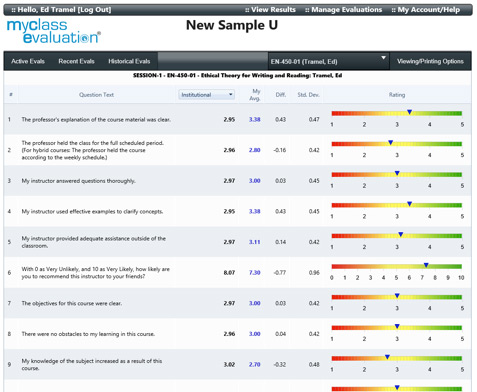 Instructor Benchmark
Instructor compared against entire faculty, school or college, and department, broken down and displayed by question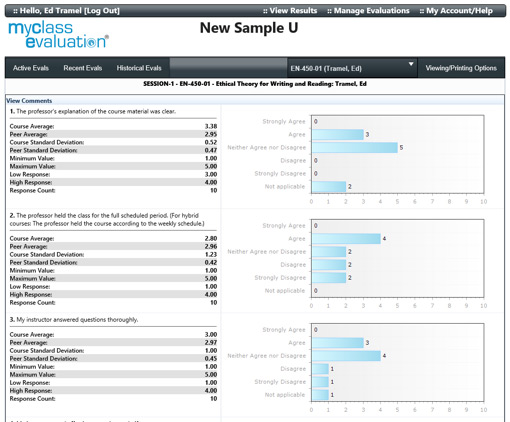 Graphical Summary Report
Graphical representation with Frequencies/Percentages mean, SD, mode, median, peer average, peer standard deviation, min/max value of questions, lowest response count/highest response count and total responses. Also displays all comments by question.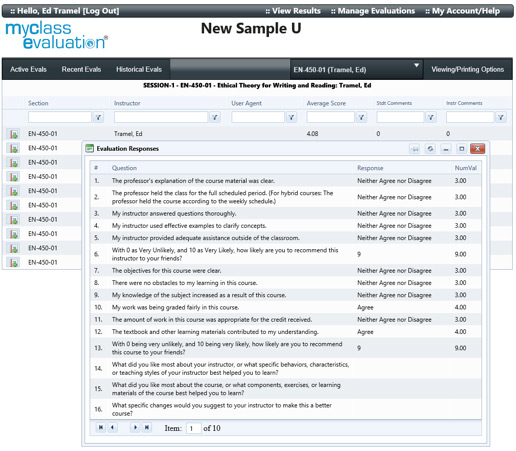 Browse Results
Browse through individual survey submissions available for viewing answers and comments by individual submission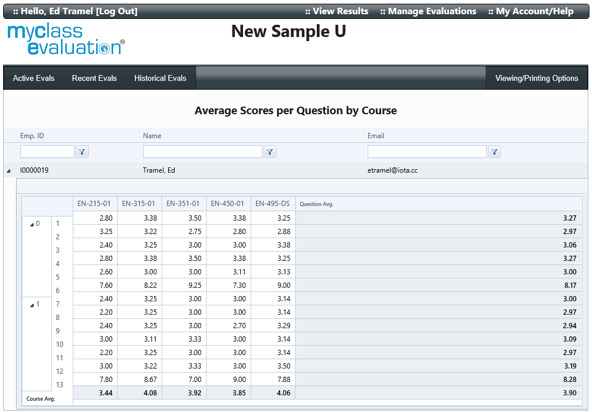 Instructor Comparison Report
Evaluation results for all courses taught, broken down by question (averages per sections, per question and overall average)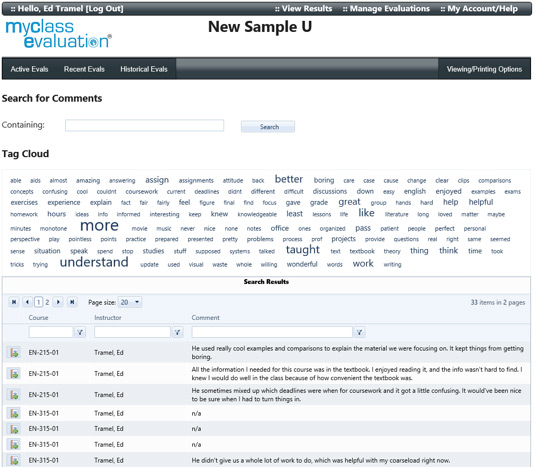 Word Frequency Distribution
Result of this analysis provides insight into students' sentiments commonly expressed in their evaluations. Full-Text Search enabled, the keywords are indexed along with occurrence counts for each keyword down to the document level (a single comment). IOTA displays a "Tag Cloud" which gives a visual representation of the relative frequency of occurrence for each keyword.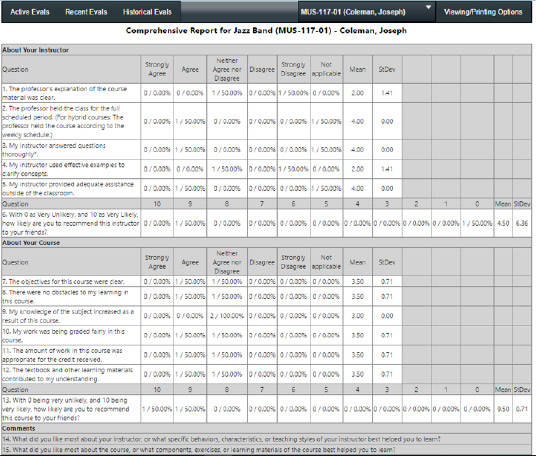 Comprehensive Report
This view displays a one page report that includes all scored questions and student comments.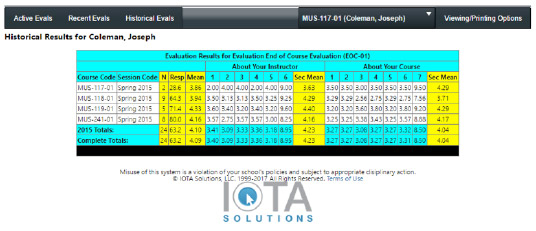 Historical Analysis
This report allows you view historical results for scored questions for each course taught by the instructor.
IOTA360 Evaluations also allows for modification and customization of reporting as requested by the college or University. Many schools like to see different or more customized reporting of the data. This is easily accomplished, often at no additional charge.
IOTA360 Evaluations' reporting system is able to aggregate student response data by instructor within course, division, department, school/college, and academic term. It is also able to report on each instructor should the course have multiple instructors, as well as report on cross-listed courses. For example, a Biology course cross-listed with Chemistry will show up in both the Chemistry and Biology department reports, as well as if the report were selected for the instructor.
MyClassEvaluation has the ability to summarize data for instructors within courses by academic term, even if the academic term has multiple survey start and end dates. IOTA360 Evaluations is also able to summarize departmental or school/ college data by division across academic terms.
IOTA provides for the ability to export into multiple file formats, including MS Excel, PDF, etc. The college or University also has access to all raw data in a format that can be read by existing reporting software such as SPSS or MS Access.
IOTA360 Evaluations allows for the importation of historical course/instructor evaluation data currently maintained by the college or University to provide access to evaluation data in one centralized location. It allows for the importation of historical evaluation data in a format (txt, csv, xml, etc) exported from the college or University's current system.
---
Want to Learn More?
Contact us today to find out more about how our IOTA360 Evaluations can dramatically improve your school's course evaluation practices.